Come join us and learn how to use community developed image editing software to produce ace booklets and zines.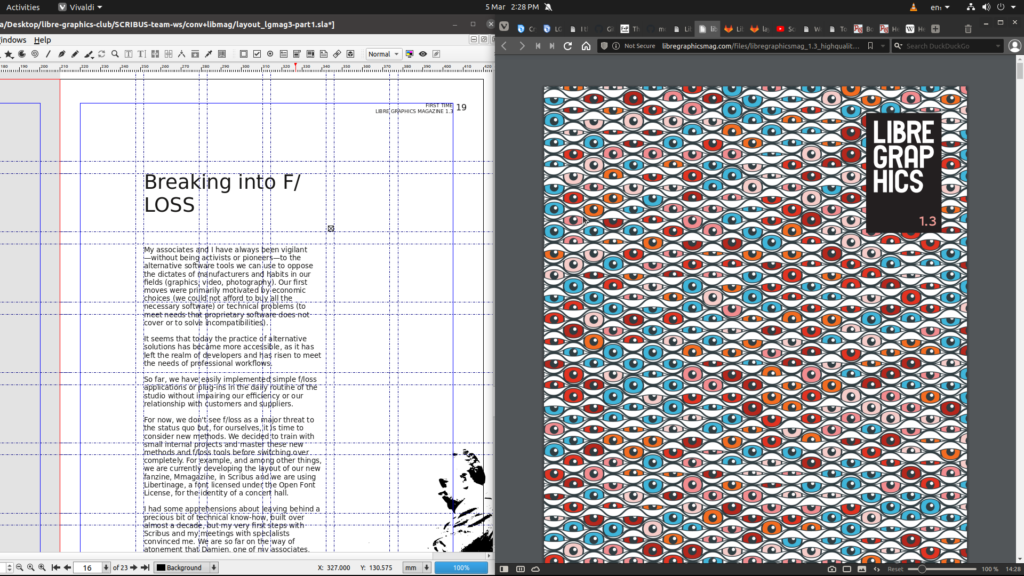 Date: 10/06/21
Time: 6 – 8 pm BST
Please register here: https://www.eventbrite.co.uk/e/libre-graphics-club-5-tickets-158018380229
BBB link: https://de.meet.coop/b/lar-ix7-wsb-sqo
About this event
In our first June instalment we'll look at Scribus, a page layout program. This is aimed at all who are interested in Free software tools for desktop publishing. If you'd like to make a booklet, newspaper, zine or a multiple page pdf, this session is for you! We'll explore Scribus by remixing very wonderful Libre Graphics Magazine.
Scribus is available for Windows, Mac and Linux. To get the most out of the session, please take a moment to download and install it in advance.
About LGC
Libre Graphics is a broad ecosystem of digital tools and creative practises in the areas of design, illustration, typography, layout, art, photography, publishing, cartography, animation and video.
Libre Graphics Club is an artist-led pilot project to develop and deliver a series of free workshops and open access online educational resource for experimentation with free/libre arts & technologies.
In collaboration with Furtherfield, Access Space, Common House and Antiuniversity, the project provides artist, community organisers and activists with exciting opportunities to explore Libre Graphics tools above and beyond those taught within the conventional art/design curriculums, so all can do more to enchant practice in these extraordinary times.
Looking forward to seeing you there!
Keep up with us on instagram&twitter: @wheel_o_values