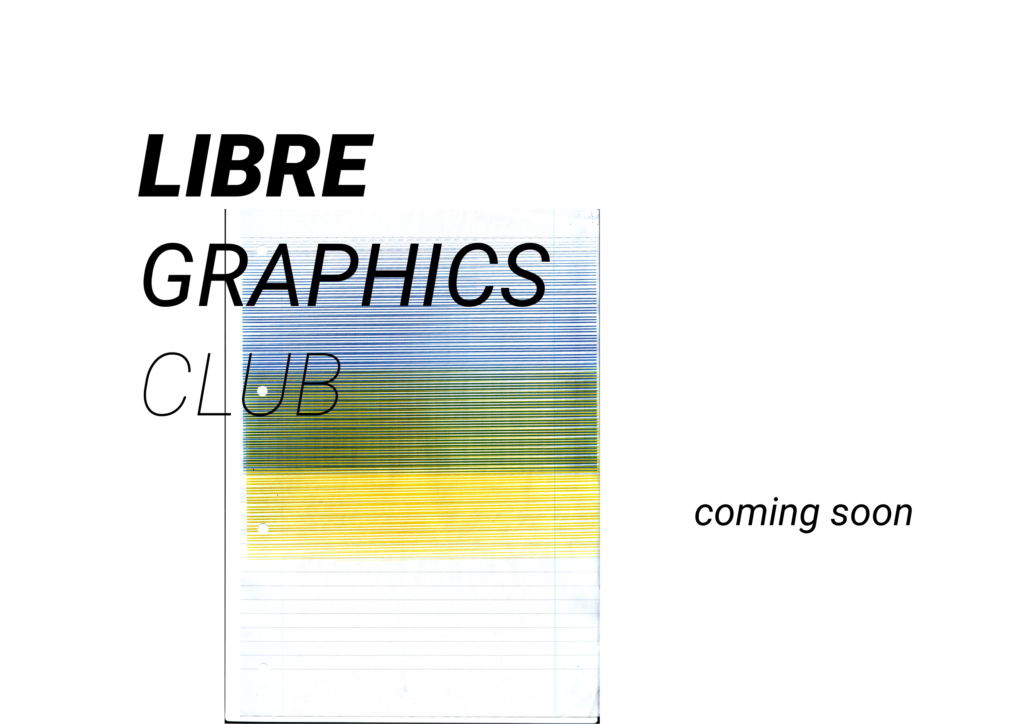 Dear all,
We are delighted to invite you to the first Libre Graphics Club event on 29/03/21 from 6:30-8pm GMT. Looking forward to seeing you there!
To register, please follow this Eventbrite link:
https://www.eventbrite.com/e/libre-graphics-club-pilot-intro-event-tickets-147232591645
Come join us and help co-create online sessions for learning how to use community developed image editing software to produce ace flyers, posters & more.
This is an invitation for an online meeting on 29/03/21 for all interested in Libre Graphics Club programme which will run from April to August 2021. This first, introductory, session will be focused on broader issues around relationship between Free Software art and design and discussion about digital tools and their impact on creative practice. We would also like to spend some time on discussing possible themes for the pilot, thus opening curriculum development to voices beyond our core team. All ideas will be collaboratively documented on provided online platform and taken into consideration for at least one of the sessions in the pilot.
ABOUT:
Libre Graphics (LG) is a broad ecosystem of digital tools and creative practises in the areas of design, illustration, typography, layout, art, photography, publishing, cartography, animation and video.
Libre Graphics Club is an artist-led pilot project to develop and deliver a series of free workshops and open access online educational resource for experimentation with free/libre arts & technologies.
In collaboration with Furtherfield, Access Space, Common House and Antiuniversity, the project provides artist, community organisers and activists with exciting opportunities to explore Libre Graphics tools above and beyond those taught within the conventional art/design curricula, so all can do more to enchant practice in these extraordinary times.